Hope is something that is often brought up during political c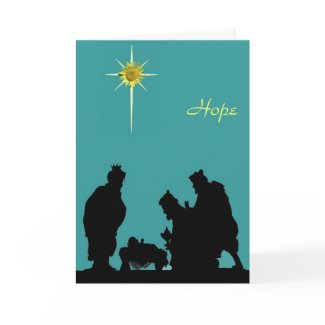 ampaigns and the holiday season.  Americans eagerly await the coming of peace, whether in the Washington political structure or with Christmas cards.  However, hope is not just some state of being where we sit idly by in passive expectation.  As Daniel Kirk pointed out in one of a recent blog post, hope is neither just a disposition, nor a mere holding out until things work out in the end.  Hope, in the Christian sense of the term, is something that is reality-driven and will not disappoint.  Hope is something that will come about, just not yet.
Hope in the Advent season (that is, the time in the Christian calendar that celebrates the birth of Christ and looks forward to his return)  is a theme that is rooted in the first coming of Christ.  His life here on earth brought humanity hope.    As I mentioned in one of my Advent pieces last year, Timothy Keller once wrote that the message of Christmas is that God comes to us and that we cannot come to God.  Jesus came to rightly restore us and provide us a reality-driven hope.  The death and resurrection of Jesus points us to the truth that things are going somewhere.  Since Jesus has been raised, we too will also be raised to embodied life everlasting.  As Kirk wrote in his post, "Jesus Christ is raised from the dead. Therefore, we have hope."
For those in Christ, hope is real because Jesus is risen and will come again to fulfill that expectation.
What other roles might Hope play in Christmastime?